Ardas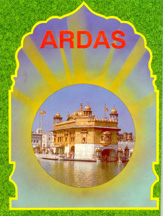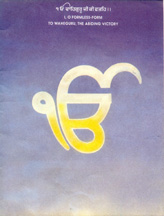 1, O FORMLESS-FORM TO WAHEGURU, THE ABIDING VICTORY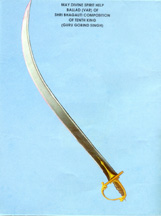 MAY DIVINE SPIRIT HELP BALLAD (VAR) OF SHRI BHAGAUTI COMPOSITION OF TENTH KING (GURU GOBIND SINGH)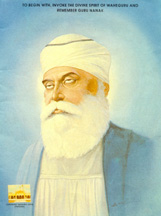 TO BEGIN WITH, INVOKE THE DIVINE SPIRIT OF WAHEGURU AND REMEMBER GURU NANAK Dev Ji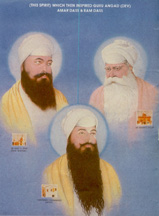 (THIS SPIRIT) WHICH THEN INSPIRED GURU ANGAD (DEV) AMAR DASS & RAM DASS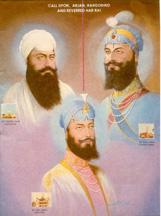 CALL UPON, ARJAN, HARGOBIND AND REVERRED HAR RAI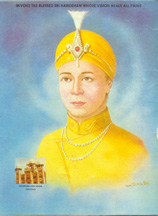 INVOKE THE BLESSED SRI HARKRISHAN WHOSE VISION HEALS ALL PAINS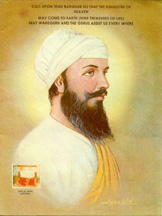 CALL UPON TEGH BAHADUR SO THAT THE KINGDOM OF HEAVEN MAY COME TO EARTH (NINE TREASURES OF LIFE) MAY WAHEGURU AND THE GURUS ASSIST US EVERY WHERE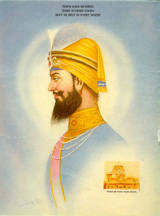 TENTH KING REVERRED GURU GOBIND SINGH MAY HE HELP US EVERY WHERE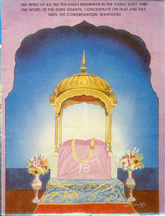 THE SPIRIT OF ALL THE TEN KINGS (GURUS) ENSHRINED IN THE VISIBLE BODY AND THE WORD OF THE GURU GRANTH, CONCENTRATE ON THAT AND SAY, SIRES,THE CONGREGATION: WAHEGURU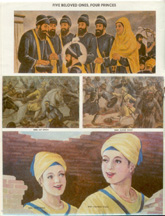 FIVE BELOVED ONES, FOUR PRINCES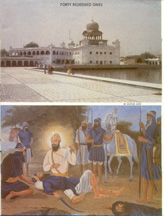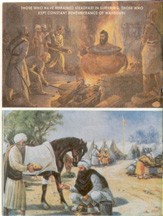 THOSE WHO HAVE REMAINED IN STEADFAST IN SUFFERING, THOSE WHO KEPT CONSTANT REMEMBERANCE OF WAHEGURU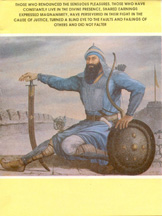 THOSE WHO RENOUNCED THE SENSUOUS PLEASURES, THOSE WHO HAVE CONSTANTLY LIVE IN THE DIVINE PRESENCE, SHARED EARNINGS, EXPRESSED MAGNANIMITY, HAVE PERSEVERED IN THEIR FIGHT IN THE CAUSE OF JUSTICE, TURNED A BLIND EYE TO THE FAULTS AND FAILINGS OF OTHERS AND DID NOT FALTER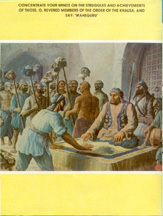 CONCENTRATE YOUR MINDS ON THE STRUGGLES AND ACHIEVEMENTS OF THOSE, O, REVERRED MEMBERS OF THE ORDER OF THE KHALSA, AND SAY : 'WAHEGURU'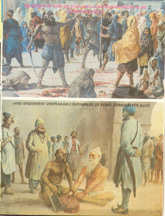 THE SINGHS OF BOTH THE SEXES WHO COURTED MARTYRDOM IN THE CAUSE OF RELIGION AND UNDERWENT UNSPEAKABLE SUFFERINGS OF BEING DISMEMBERED ALIVE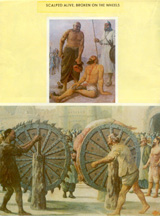 SCALPED ALIVE, BROKEN ON THE WHEELS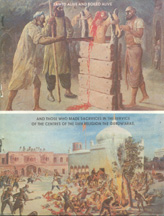 SAWED ALIVE AND BOILED ALIVE AND THOSE WHO MADE SACRIFICES IN THE SERVICE OF THE CENTRES OF THE SIKH RELIGION THE GURDWARAS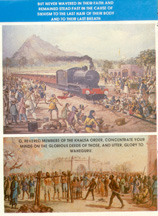 BUT NEVER WAVERED IN THEIR FAITH AND REMAINED STEADFAST IN THE CAUSE OF SIKHISM TO THE LAST HAIR OF THEIR BODY AND TO THEIR LAST BREATH

,
O, REVERRED MEMBERS OF THE KHALSA ORDER, CONCENTRATE YOUR MINDS ON THE GLORIOUS DEEDS OF THOSE, AND UTTER, GLORY TO WAHEGURU.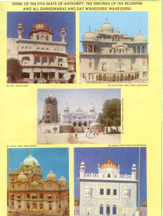 THINK OF THE FIVE SEATS OF AUTHORITY, THE THRONES OF THE RELIGION AND ALL GURDWARAS AND SAY WAHEGURU! WAHEGURU!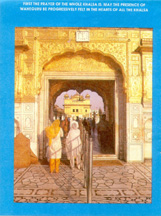 FIRST THE PRAYER OF THE WHOLE KHALSA IS MAY THE PRESENCE OF WAHEGURU BE PROGRESSIVELY FELT IN THE HEARTS OF ALL THE KHALSA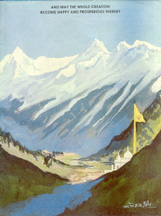 AND MAY THE WHOLE CREATION BECOME HAPPY AND PROSPEROUS THEREBY

MAY THE SUPPLIES OF THE KHALSA EVER REMAIN REPLENISHED, MAY THE SWORD OF THE KHALSA BE EVER VICTORIOUS, MAY THE ROYAL TITLE OF THE KHALSA BE UNIVERSALLY RECOGNISED AND HONOURED, MAY VICTORY ATTEND UPON ALL JUST ENDEAVOURS OF THE PANTH
THE KHALSA COMMONWEALTH, MAY WAHEGURU'S MIGHT (SRI SAHIB) BE OUR CONSTANTLY, MAY THE ORDER OF THE KHALSA ACHIEVE EVER-EXPANDING PROGRESS AND SUPERMACY, SAY WAHEGURU! WAHEGURU!
GRANT TO SIKHS: THE GIFT OF FAITH, THE GIFT OF UNCUT HAIR, THE GIFT OF DISCIPLINE, GIFT OF THE KNOWLEDGE, THE GIFT OF MUTUAL TRUST, THE GIFT OF SELF CONFIDENCE AND THE SUPREME GIFT OF ALL GIFTS, THE GIFT OF COMMUNION WITH WAHEGURU.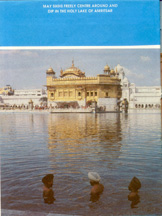 MAY SIKHS FREELY CENTRE AROUND AND DIP IN THE HOLY LAKE OF AMRITSAR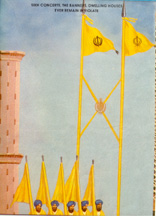 SIKH CONCERTS, THE BANNERS, DWELLING HOUSES EVER REMAIN INVIOLATE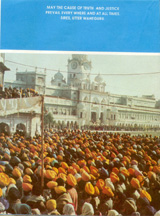 MAY THE CAUSE OF TRUTH AND JUSTICE PREVAIL EVERY WHERE AND AT ALL TIMES. SIRES, UTTER WAHEGURU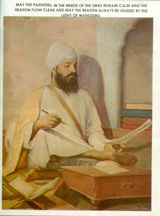 MAY THE PASSIONS IN THE MINDS OF THE SIKHS REMAIN CALM AND THE REASON FLOW CLEAR AND MAY THE REASON ALWAYS BE GUIDED BY THE LIGHT OF WAHEGURU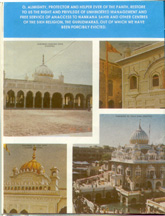 O, ALMIGHTY, PROTECTOR AND HELPER EVER OF THE PANTH, RESTORE TO US THE RIGHT AND PRIVILEGE OF UNHINDERED MANAGEMENT AND FREE SERVICE OF ANACCESS TO NANKANA SAHIB AND OTHER CENTRES OF THE SIKH RELIGION, THE GURDWARAS, OUT OF WHICH WE HAVE BEEN FORCIBLY EVICTED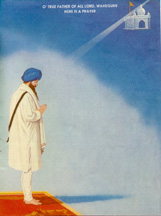 O' TRUE FATHER OF ALL LORD, WAHEGURU HERE IS A PRAYER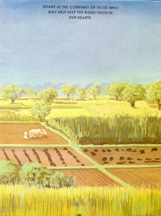 GRANT US THE COMPANY OF THOSE WHO MAY HELP KEEP THY NAME FRESH IN OUR HEARTS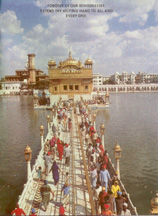 FORGIVE US OUR REMISSNESSES, EXTEND THY HELPING HAND TO ALL AND EVERY ONE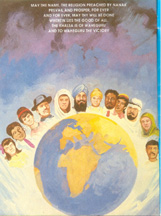 MAY THE NAME, THE RELIGION PREACHED BY NANAK Dev Ji PREVAIL AND PROSPER, FOR EVER AND FOR EVER, MAY THY WILL BE DONE WHEREIN LIES THE GOOD OF ALL. THE KHALSA IS OF WAHEGURU AND TO WAHEGURU THE VICTORY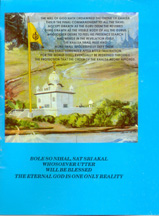 THE WILL OF GOD HATH ORDANINED THE ORDER OF KHALSA THIS IS THE FINAL COMMANDMENT TO ALL THE SIKHS: ACCEPT GRANTH AS THE GURU DEEM THE REVERRED GURU GRANTH AS THE VISIBLE BODY OF ALL THE GURUS. WHOSOEVER DESIRE TO FEEL HIS PRESENCE SEARCH AND MERGE IN THE REVELATION ITSELF THE KHALSA SHALL RULE AND NONE SHALL SUCCESSFULLY DEFY THEM. ALL SHALL SURRENDER AFTER BITTER FRUSTRATION
FOR THE WORLD SHALL EVENTUALLY BE REDEEMED THROUGH THE PROTECTION THAT THE ORDER OF THE KHALSA ALONE AFFORDS.
BOLE SO NIHAL, SAT SRI AKAL WHOSOEVER UTTER WILL BE BLESSED THE ETERNAL GOD IS ONE ONLY REALITY